Fee Calculator
Once you submit this form, a copy will be securely stored in your CHEK Institute account. If you are accepted into the academy, your monthly subscription, beginning on the 1st of the month you join the academy, will be customized based on the information you provide here.
Please indicate any learning resources that you have already purchased and we will subtract their cost from the standard fee for the year you are applying.
Once you have completed all of the above information please ensure you press "Submit".

Once you have paid your deposit your answers will be checked against our records and you will receive a link to set up a subscription for your monthly fees.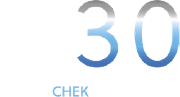 DON'T MISS A MINUTE OF THIS ORIGINAL NEW SERIES!
Sign up now for details on how to watch*